… serving You 31 years

For English call
(+420) 730 525 154
Mon-Fri: 8:00-16:00
or write to us

Pour Française

Para Español

Per Italiano
(+420) 735 750 451
www.stoklasa-eu.com
Haberdashery Stoklasa - wholesale
Průmyslová 13, 747 23 Bolatice
tel: 553 677 777, email: eshop@stoklasa-eu.com

Shoulder Pads and other Interfacing
TIP: Filter by colour, price, composition etc.
Dress-shield cotton 670017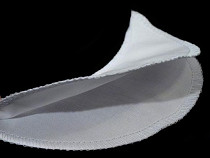 Width: 7 cm
Height: 15,5 cm
11.490 EUR
/ excl. VAT (10 pr.)
Shoulder Pad thickness 20 mm 220004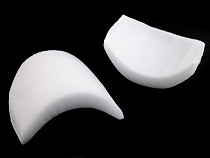 Width: 11 cm
Length: 11 cm
Thickness: 2 cm
3.910 EUR
/ excl. VAT (10 pr.)
Shoulder Pads thickness 10 mm embroidered edge 220074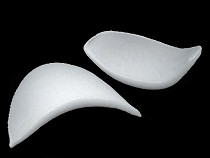 Shoulder Pads with velcro thickness 10 mm embroidered edge 220042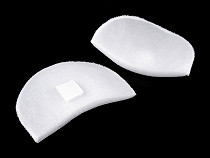 Shoulder Pads thickness 14 mm embroidered edge 220002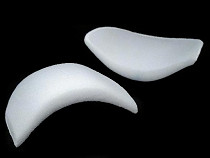 Shoulder Pads thickness 16-18 mm embroidered edge 220021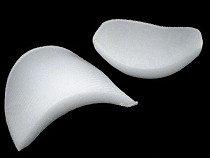 Shoulder Pads
Women´s fashion in the 16th century in Spain was formed by corset that was reinforced by underwire and in case of girls even by metal blades that should prevent their breasts from growing. Women´s skirt was supported by crinoline with metal hoops and padings. These paddings were made of felt and sea grass. Over their corset and crinoline women used to dress double outer robe of heavy silk, decorated by pearls, precious stones, ribbons and embroideries.

By the end of the 1960s in the time when Biedermeier fashion was ceasing, new fashion appeared in upper class to which all women surrended. Its base was tightly contracted corset and padding which was being tied to the belt back. Paddings were made mostly of horsehair. From the side view, observer could see unnaturally stylized figure in S-shape.
According to the law of registration of sales the seller is obliged to issue a receipt to the buyer. Seller is also obliged to register received revenue at the Financial Authority online; in case of technical failure this must be done within 48 hours.

© Stoklasa textilní galanterie s.r.o. 2021.
To achieve the required functionality this site uses cookies. By continuing to browse the site, you agree to our use of cookies.
More information.
I understand