www.stoklasa-eu.com
Haberdashery Stoklasa - wholesale
Průmyslová 13, 747 23 Bolatice
tel: 553 677 777, email: eshop@stoklasa-eu.com

Cords and Strings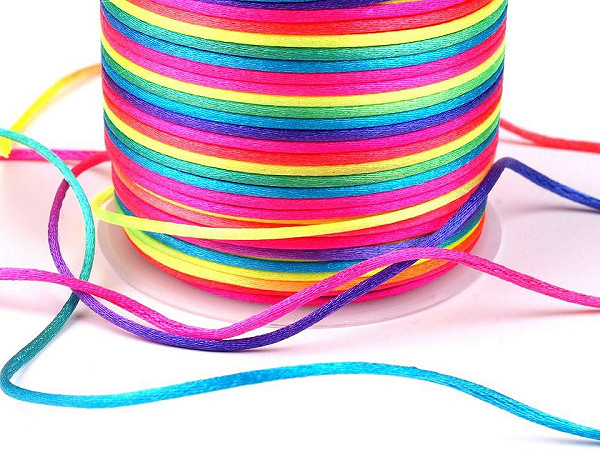 Wide selection of cords, strings and various types of laces. Cotton, polyester, satin, jute, eco leather and lurex. We have prepared a wide range of different strings, wicks, twines and tubes for you. Many of them are Czech-made, which guarantees high quality and long life. You can really tie anything from our offer and you don't have to worry that the string will break. You can tie gift items with a sleeve in gold and silver. You can use satin drawstrings in sneakers to make a sneak or in the manufacture of jewelry. Seamstresses will appreciate the offer of finished laces with ends designed for sweatshirts and tunnels. Whatever your string plan, we believe you will choose it with us.
TIP: Filter by colour, price, composition etc.
Clothing Cord with Ends for Hoodies, length 135 cm 310255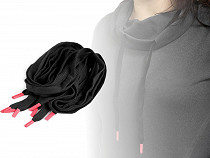 Width: 12 mm
Length: 135 cm
5.390 EUR
/ excl. VAT (10 pc.)
Cord / String Yarn Ø5 mm 310209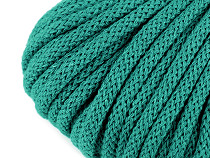 Diameter: 5 mm
Length: 10 m, 50 m
Clothing
4.200 EUR
/ excl. VAT (50 m)
Cord / Yarn Ø9 mm, full 310221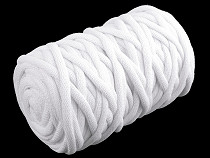 Diameter: 9 mm
Length: 50 m
Clothing
15.450 EUR
/ excl. VAT (50 m)
Cotton laces for shoes / sneakers / sweatshirts length 130 cm 880099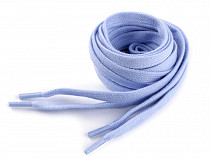 Width: 9 mm
Length: 130 cm
6.320 EUR
/ excl. VAT (10 pc.)
Cotton shoelaces, sneakers, sweatshirt laces length 120 cm 880101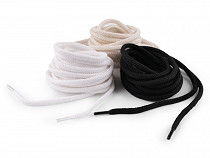 Diameter: approx. 4 mm
Length: 120 cm
4.680 EUR
/ excl. VAT (10 pc.)
Cotton Twill Tape width 10 mm 320475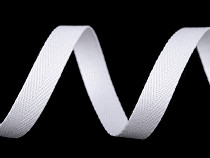 Width: 10 mm
Length: 25 m
Clothing
9.975 EUR
/ excl. VAT (25 m)
Cotton Yarn Macramé 600 g 290583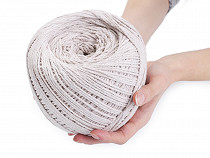 Diameter: 2 mm
Weight: approx. 600 g
Combing
7.589 EUR
/ excl. VAT (1 pc.)
Embroidery Yarn / String Ø3 mm 310220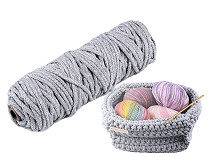 Diameter: 3 mm
Length: 50 m
Clothing
3.750 EUR
/ excl. VAT (50 m)
Flat Spagetti Ribbon Lurex 250 g 290582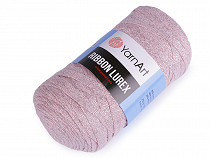 Weight: 250 g
Maximum Continuous Length: 110 m
Width: 9 mm
Manufacturer: YarnArt
5.855 EUR
/ excl. VAT (1 pc.)
Flat Woven Cotton Cord Macrame width 8 mm 310250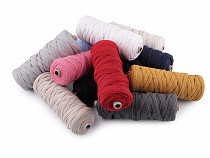 Width: 8 - 10 mm
Length: 50 m
Clothing
Woven
4.200 EUR
/ excl. VAT (50 m)
Garment Cord / Macrame Yarn Ø4 mm 310246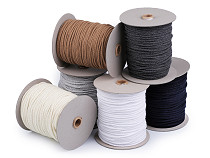 Diameter: 4 mm
Length: 100 m
Clothing
Braided
8.400 EUR
/ excl. VAT (100 m)
Hoodie Strings / Hoodlaces with Ends length 140 cm 310185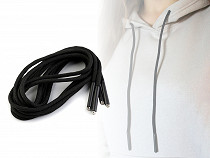 Diameter: 5 mm
Length: 140 cm
26.700 EUR
/ excl. VAT (100 pc.)
Cords And Strings
Cords are twines made by interlacing yarns into the longitudinal direction. Cords are made in three ways: twisting, braiding, and coiling round core. Their maximum diameter is 10 mm. Twisted cords are manufactured in one or more production stages: made of twines, made of natural or chemical threads, made of fishing lines or strips. During twisting 3 - 4 strands are coiled in one or two layers around the core in the direction of longitudinal axis of the cord. Such products are used in upholstery, construction or even in a book binding.

Stranded cord has a circular cross section; natural or artificial threads are linked diagonally. Cords that have a diameter of 2-3 mm are also being woven with a hollow without core. Cords which are made by coiling round cores have a circular cross section - the same way as braided cords. Lengthwise threads are coiled by diagonally interlaced coat. Such threads are being used for manufacturing of blinds or like insulating material.

Find in our wholesale a lot of various cords, , strings, hollow braids... Many products are of Czech origin so you can be sure that when tying things, the cord wil not tear off and will last longer. If you want to decorate a gift for your loved ones, wrap it with beautiful Czech-made hollow braid in gold and silver.