… serving You 31 years

For English call
(+420) 730 525 154
Mon-Fri: 8:00-16:00
or write to us

Pour Française

Para Español

Per Italiano
(+420) 735 750 451
Are you an Entrepreneur or Business owner in EU country? Then register at our site and benefit from buying wholesale. Special offer for new wholesalers - get free shipping for your 1st order over 50Eur! More here.
www.stoklasa-eu.com
Haberdashery Stoklasa - wholesale
Průmyslová 13, 747 23 Bolatice
tel: 553 677 777, email: eshop@stoklasa-eu.com

Cords and Strings
TIP: Filter by colour, price, composition etc.
Clothing / Hoodie String with Luminous Effect width 8 mm 310224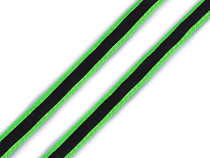 Cord / String Yarn Ø5 mm 310209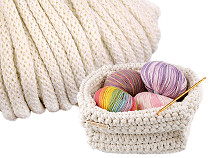 Cord / Yarn Ø5 mm with lurex 310244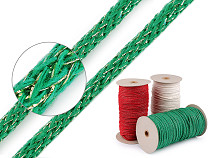 Cord / Yarn Ø5 mm, full 310223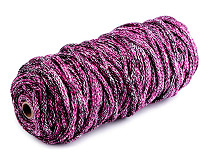 Cord / Yarn Ø9 mm, full 310221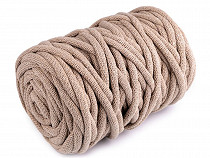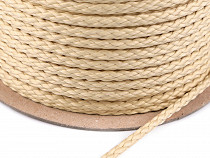 Cotton Cord / Yarn Macramé 600 g 290583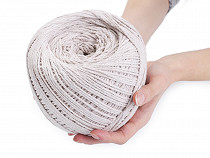 Cotton Cord 2x3 mm 310245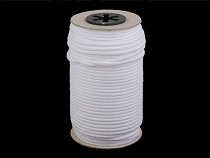 Cotton Cord Macrame Ø3 mm 310248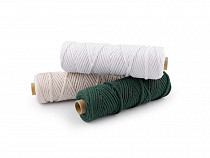 Cotton Cord Macrame Ø5 mm 310249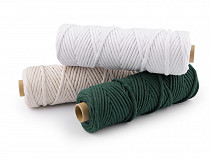 Cotton Twill Tape width 10 mm 320475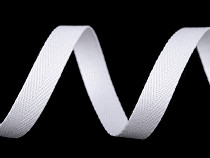 Eco-Leather String with Beads, width 3 mm 430643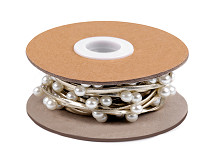 Width: 3 mm
Diameter of pearl: 6 mm
Number of pearls: 26 pc / 1 m
Length: 5 m, 25 m
5.885 EUR
/ excl. VAT (5 m)
Cords And Strings
Cords are twines made by interlacing yarns into the longitudinal direction. Cords are made in three ways: twisting, braiding, and coiling round core. Their maximum diameter is 10 mm. Twisted cords are manufactured in one or more production stages: made of twines, made of natural or chemical threads, made of fishing lines or strips. During twisting 3 - 4 strands are coiled in one or two layers around the core in the direction of longitudinal axis of the cord. Such products are used in upholstery, construction or even in a book binding.

Stranded cord has a circular cross section; natural or artificial threads are linked diagonally. Cords that have a diameter of 2-3 mm are also being woven with a hollow without core. Cords which are made by coiling round cores have a circular cross section - the same way as braided cords. Lengthwise threads are coiled by diagonally interlaced coat. Such threads are being used for manufacturing of blinds or like insulating material.

Find in our wholesale a lot of various cords, , strings, hollow braids... Many products are of Czech origin so you can be sure that when tying things, the cord wil not tear off and will last longer. If you want to decorate a gift for your loved ones, wrap it with beautiful Czech-made hollow braid in gold and silver.
According to the law of registration of sales the seller is obliged to issue a receipt to the buyer. Seller is also obliged to register received revenue at the Financial Authority online; in case of technical failure this must be done within 48 hours.

© Stoklasa textilní galanterie s.r.o. 2021.
To achieve the required functionality this site uses cookies. By continuing to browse the site, you agree to our use of cookies.
More information.
I understand