Loyalty program for wholesale customers

Are you an Entrepreneur or Business owner in the EU country? Then shop with us and benefit from buying wholesale.
Loyalty Program and Benefits
In Accordance with the total amount of your orders in the previous year, you will be assigned to one of the loyalty groups. After logging into your Stoklasa account, your prices will be displayed according to your loyalty group and you will be able to see information about benefits that you will qualify for the following year.
If you reach the limit needed to be included in a higher group already during 2022, you will automatically receive discounts and benefits of this group and you can start using them immediately.
Loyalty group terms for the year 2022
Loyalty group
Price Group
Your purchases per calendar year excl. VAT
Your Benefits
1.
Silver VOA
VOA
4 200 - 7 600 EUR excl. VAT
- special offers *
2.
Gold VOC
VOC
7 600 - 15 200 EUR excl. VAT
- price/unit of the small package is the same as for the middle package
- special offers *
3.
VIP
VIP
15 200 - 32 000 EUR excl. VAT
- free shipping for orders over 40Eur / limit 10 orders a month
- best price per unit on every package
- priority in order preparation
- gift, if annual limit fulfilled
- special deals for best selling products
4.
Top VIP
VIP
32 000 - 64 000 EUR excl. VAT
- same benefits as group VIP
- free shipping for orders over 40Eur / limit 20 orders a month
- individual approach
- paper invoices with no fee
5.
Top VIP +
VIP
over 64 000 EUR excl. VAT
- benefits are consistent with the group VIP and TOP VIP
- free shipping for orders over 40Eur / limit 100 orders a month
- gift when annual demand is complied
*Special offers are announced in advance via newsletter.
To take advantage of all the benefits offered, we recommend that you subscribe to our newsletters, where you will be informed about special offers, coupons, news and more.
Company Stoklasa reserves the right to make changes in the limits and benefits.
How much will you pay once you reach the limit of one of the loyalty groups?
For example, 1 pincushion:
| | | | | |
| --- | --- | --- | --- | --- |
|   | MO(retail) | Silver VOA | Gold VOC | VIP |
| 1 pc | 2,869 EUR | 2,614 EUR | 1,698 EUR | 1,188 EUR |
| 5 pcs | 1,867 EUR | 1,698 EUR | 1,698 EUR | 1,188 EUR |
| 12 pcs | 1,307 EUR | 1,188 EUR | 1,188 EUR | 1,188 EUR |
Prices are excl. VAT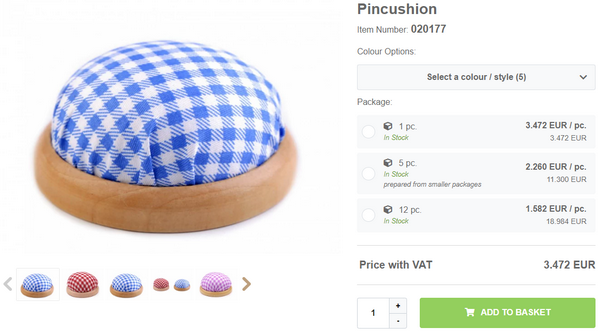 How to grow your business even more?
We will provide you with a free xml feed (just contact us by e-mail: marketing@stoklasa.cz), where you will have a daily updated overview of goods, incl. specifications, photographs and text description. For more information, read our XML feed subscription guide.
We enable our registered wholesale customers to use our pictures and inspirational photographs for their business activities. More information on the use of our photos.
The "multiple shopping baskets" advantage
Do you have a prepared order in your shopping basket, but now you need to order something quickly and do not want to lose the original order? The Multi-Baskets function is the right one for you, thanks to this function you will have a better overview of your orders. Do you want to know more?
We are constantly working on new benefits for existing and new customers. There is always a reason to come back to us.
In order to be able to use all the offered benefits, we recommend subscribing to our newsletters. That way you will be informed about free shipping, discounts, special coupons and, of course, the most interesting news.