… serving You 31 years

For English call
(+420) 730 525 154
Mon-Fri: 8:00-16:00
or write to us

Pour Française

Para Español

Per Italiano
(+420) 735 750 451
Are you an Entrepreneur or Business owner in EU country? Then register at our site and benefit from buying wholesale. Special offer for new wholesalers - get free shipping for your 1st order over 50Eur! More here.
www.stoklasa-eu.com
Haberdashery Stoklasa - wholesale
Průmyslová 13, 747 23 Bolatice
tel: 553 677 777, email: eshop@stoklasa-eu.com

Sewing Baskets and Boxes
Basket - thing that we have linked to childhood Riding Hood, when she went to her grandmother and put plenty of food in it. We offer you a beautiful wicker baskets for sewing in a small or large version. Most products are available in sets, you will not have a problem with figuring out where to put stuff. Particularly interesting is the basket made of wood, which you can paint or let your little one paint it for you so you have a great memory and most unique thing that you will be proud of.
TIP: Filter by colour, price, composition etc.
Folding Box for Knitting and Sewing Supplies 840158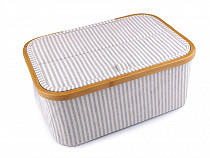 Dimensions: 26 x 38 cm
Height: 16 cm
23.907 EUR
/ excl. VAT (1 pc.)
Folding Box for Knitting and Sewing Supplies 840159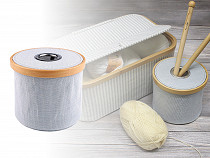 Diameter: 16 cm
Height: 14 cm
Diameter of hole: 4 cm
14.479 EUR
/ excl. VAT (1 pc.)
Folding Cassette / Sewing Basket made of Brazilian Rubber Tree 840164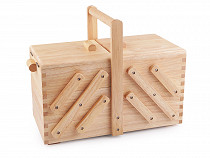 Dimensions: 16 x 34 x 19 cm
Total Height: 27,5 cm
Weight: 2450 g
38.747 EUR
/ excl. VAT (1 pc.)
Knitting Yarn Storage Bag / Basket 810799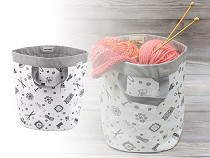 Padded Fabric Sewing Basket / Box 840160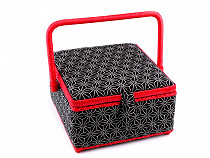 Dimensions: 23 x 23 cm
Height: 14 cm
31.981 EUR
/ excl. VAT (1 pc.)
Padded Sewing / Storage Basket Cat 840321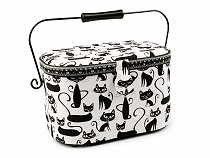 Dimensions: 21 x 31 cm
Height: 19 cm
37.845 EUR
/ excl. VAT (1 pc.)
Padded sewing box / kit 840295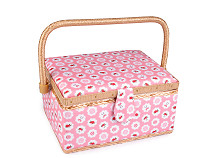 Plastic Storage Box Organizer / Case 780990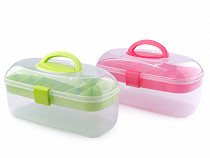 Plastic Storage Organizer Box 780629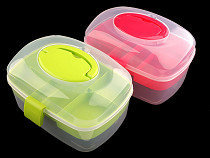 Plastic Storage Organizer Box 780630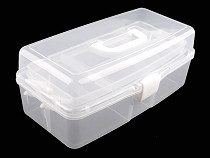 Dimensions: 20,5 x 41 cm
Height: 15,5 cm
17.456 EUR
/ excl. VAT (1 pc.)
Plastic Storage Organizer Box 780632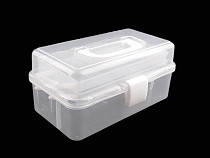 Dimensions: 16 x 27 cm
Height: 12 cm
8.525 EUR
/ excl. VAT (1 pc.)
Sewing Basket / Storage Basket 740825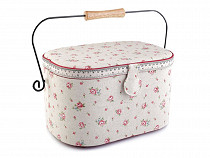 Baskets
Who does not know about Red Riding Hood fairy tale, in which a little girl set out to her grandmother and was eaten by wolf on her way? Everyone has listened to it at least once. Ladies, do you want to be in your style like her? We offer you beautiful wicker baskets although they´re not used for carrying food to various picnics but for storage of sewing needs which no true housewife should miss.

You have a choice of high quality baskets of different colours and designs. Most of the products offered are available in sets, so you will really have a lot of storage space. An interesting hiding places for sewing kit is folding basket in small and medium design. It is made of wood, and offers plenty of storage space. If you have a young child and you want to entertain him for a moment, give him colours and let him paint you basket. You will have fresh and unique thing at your home then.
According to the law of registration of sales the seller is obliged to issue a receipt to the buyer. Seller is also obliged to register received revenue at the Financial Authority online; in case of technical failure this must be done within 48 hours.

© Stoklasa textilní galanterie s.r.o. 2021.
To achieve the required functionality this site uses cookies. By continuing to browse the site, you agree to our use of cookies.
More information.
I understand