www.stoklasa-eu.com
Haberdashery Stoklasa - wholesale
Průmyslová 13, 747 23 Bolatice
tel: 228 229 395, email: eshop@stoklasa-eu.com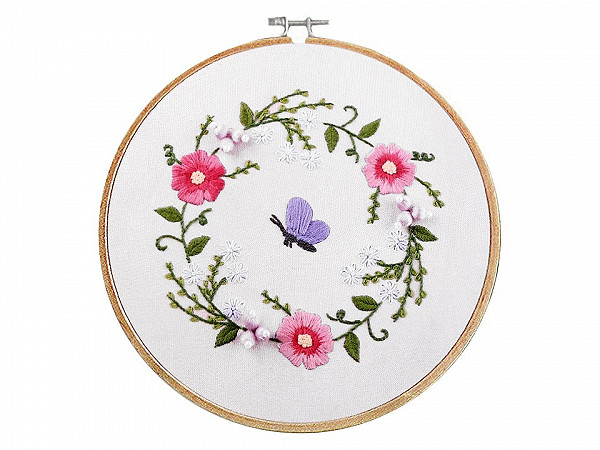 Do you embroider? Our offer of embroidery yarns and moulinets, frames, fabrics and templates will meet your most demanding requirements. Whether you've just discovered embroidery or have been embroidering for years, you've come to the right place. You are sure to choose from our wide selection of embroidery cottons of various thicknesses, materials and especially colors. Any of the embroidery fabrics will be suitable for the tablecloth. Plastic channels with large meshes are also popular for smaller embroidery projects. You can frame the resulting piece in one of the frames. Don't forget the children who enjoy embroidering immensely and treat them to one of the pre-printed children's motifs. And if you love unusual techniques, look around among the embroidery kits and hollow needles, you might even discover novelties that you don't know yet.
TIP: Filter by colour, price, composition etc.
Yarns, Cottons
Yarn is a long continuous length of single fibre (e.g. polyamide monofilament for sequins), or it consists of filament fibres twisted or grouped together (e.g. wool darn with woven shirting fabric containg in cut around 100 single fibres of 10-50mm length). Process of darn production is called spinning. Industrial production of darn developed from hand spinning which had been one of the oldest manual activities in the history of humankind. (Linen fabric found in South America is probably more than 10 000 years old).
Open end spinning or open-end spinning is a technology for creating yarn without using a spindle. It was invented and developed in Czechoslovakia. In 1965 Czech KS200 rotor spinning machine was introduced at 30000 rotor rpm. In 1982 there were nearly 4 mil of places using open-end spinnig, which make at least 10% of production capaciy of all spinning mills.
260 000 rotors of spinning machines were runnig in Czechoslovakia covering cca 1/3 of total consumption of
darn
. 2 milions of "classical" spindles were manufacturing the remaining 2/3 of darn of cotton or wool type.
Under pressure of cheap Asian countries, especially on clothing textiles, situation in Czech spinning mills has developed the same way as in West Europe. In 2006 the sale of
darn
and fibres of cotton, wool and mixes have reached hardly 1/3 quantity of 1984 year.