www.stoklasa-eu.com
Haberdashery Stoklasa - wholesale
Průmyslová 13, 747 23 Bolatice
tel: 553 677 777, email: eshop@stoklasa-eu.com

Decorations for Clothes, Shoes and Accessories
Clothes accessories were and are very popular. Garnish with them not only yourself but also your clothes so you can be different from the others and make an interesting impression. At our store you will find various stones, roses, flowers, braids and Iron-ons. Especially for the children we have color 3D decorations not only for clothing, but also for school backpacks. We carry lot of ornaments and even the most demanding customer will choose.
TIP: Filter by colour, price, composition etc.
Satin Wedding Ribbon Bow width 35 mm 190195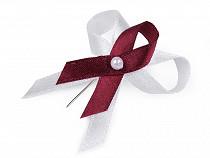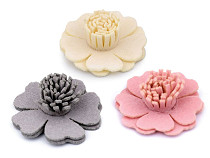 Adornment with Rhinestones Butterfly, Dragonfly, Bee 400084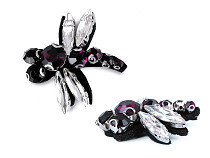 Applique with Reversible Sequins Heart, Star 390987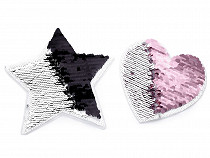 Dimensions: No. 1: 14 x 14 cm
Dimensions: No. 2: 17,5 x 17,5 cm
10.060 EUR
/ excl. VAT (10 pc.)
Applique with Reversible Sequins Unicorn / Happy Day 400108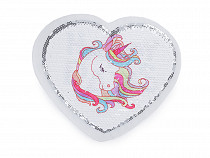 Dimensions: approx. 15 x 16,5 cm
11.280 EUR
/ excl. VAT (10 pc.)
Artificial Craft Fake Tea Rose Flower Heads Ø10 cm 780798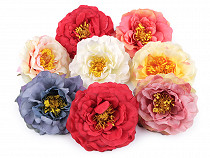 Artificial Rose Bud Heads Ø25-30 mm 780806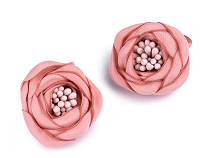 3.860 EUR
/ excl. VAT (10 pc.)
Artificial Rose Ø30 mm 780807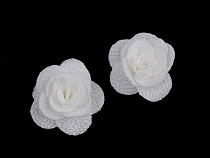 1.800 EUR
/ excl. VAT (10 pc.)
Brooch / Dragoun Buckle deer, wing, bee, flower 330748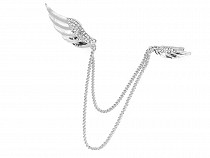 Brooch Clip with Rhinestones and Faux Pearls 330324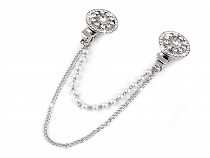 Length: No. 1: 16,3 cm
Length: No. 2: 17 cm
Colour of metal: platinum
23.208 EUR
/ excl. VAT (12 pc.)
Buckle / Clip to attach Adornments 790500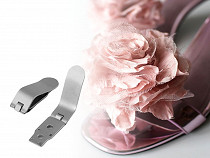 24.700 EUR
/ excl. VAT (100 pc.)
Cardingan Clip / Fastening Buckle Dragoun 780688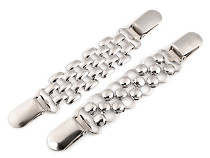 Width: 2,6 cm
Length: 14,5 cm
30.860 EUR
/ excl. VAT (20 pc.)
Clothes Decorations, Accessories
What is wonderful on world we live in, is its variety. Well, in the streets we could meet hundreds of people in identical T-shirt but - why should we? Wonderful world of textile haberdashery, full of textile decorations for sewing, iroining or gluing on, is available for us.
Find in our offer hundreds of decorations on dresses due which you can turn common piece of cloth into unique model. Just sew few plastic or glass stones, or roses and flowerers. Decorative hemming round your neckline, brooch with central rose or embroidered cabochon on cord.
Decorations have unlimited potential in textile haberdashery. Find in the section Decoration on dresses also bowknots for wedding decorations in more tones. And last but not least - wedding silk decoration for unique wedding and silk wedding nosegay for all lovely guests should not be missing.