www.stoklasa-eu.com
Haberdashery Stoklasa - wholesale
Průmyslová 13, 747 23 Bolatice
tel: 228 229 395, email: eshop@stoklasa-eu.com

Sequins, Glitters And Sequin Strips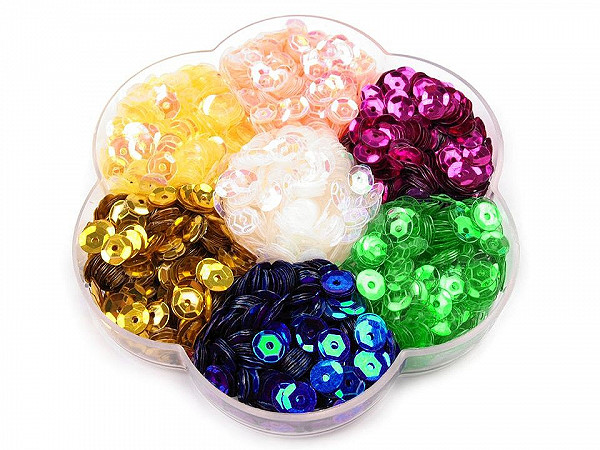 Sequins in length and piece, shiny, matte, hologram and mother-of-pearl will brighten up your clothes. Choose from a variety of colors and shapes. Sequins and glitters can be a shining ending when creating clothes and decorations. Sequins are used by designers mainly to sew festive clothes, costumes for dancers or figure skaters. In our offer you will find not only classic smooth sequins, but also angled. A popular hologram effect is that it causes more surface shimmer. Sequins are mostly sewn, they have an opening in the middle. The specialty is sequins in elastic length, which are used to decorate elastic materials, such as skirts, T-shirts, bra straps, etc. We also highly recommend sequins in length, because they are sewn in one strip and allow you to sew quickly. Glitters are loose or in spray and are pure glitter, which are pressed into the wet base. The liquid base can be decoupage glue, textile t-shirt color or diluted dispersion glue. After drying, the glitter remains on the surface and can decorate objects, clothing and decorations.
TIP: Filter by colour, price, composition etc.
A set of mini star sequins in a plastic box 340396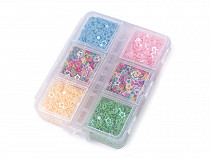 Diameter: approx. 4 mm
Box dimensions: 6 x 8 x 1,5 cm
2.15 EUR
/ excl. VAT (1 set)
Creative Glitter Set 880524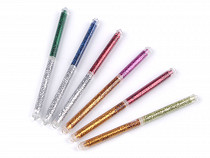 Packaging dimensions: 4,5 x 11,5 cm
Weight: 6 x 1,8 g
1.53 EUR
/ excl. VAT (1 set)
Glitter mix of colors 80 g 880798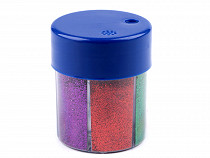 Diameter of jar: 6,5 cm
Height of Jar: 7,7 cm
Set: 6 pc
5.05 EUR
/ excl. VAT (1 pc.)
Glitters / loose glitter in a jar 12 g 880523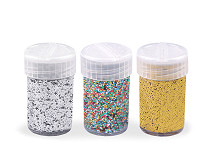 Diameter of jar: 3 cm
Height of Jar: 5,3 cm
Weight: 12 g
1.67 EUR
/ excl. VAT (1 pc.)
Loose Flat Sequins Ø6 mm Metallic 200860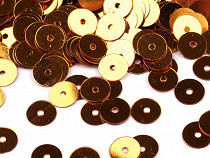 2.10 EUR
/ excl. VAT (50 g)
Metallic Flower Sequins Ø13 mm 340421
Diameter: 13 mm
Pulling hole: 2 mm
Shiny
0.460 EUR
/ excl. VAT (10 g)
Mini Snowflake Sequins Ø5 mm 340097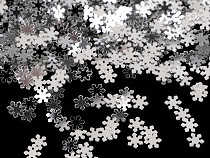 Diameter: 5 mm
Pulling hole: 0,8 mm
Package: 20 g
Shiny
2.32 EUR
/ excl. VAT (1 bag)
Powder Glitter in a Dose of 2.5-3 g 340174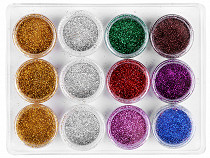 10.90 EUR
/ excl. VAT (12 pc.)
Sequins and Glitter Set 24 pcs 880522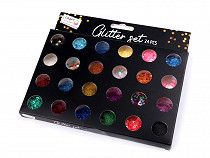 Diameter of jar: 3 cm
Height of Jar: 1,5 cm
Set: 24 pc
Set dimensions: 16,5 x 18,5 x 1,6 cm
Weight: 24 x 2 g
6.16 EUR
/ excl. VAT (1 set)
Sequins Ø19 mm Snowflakes 200030
-5%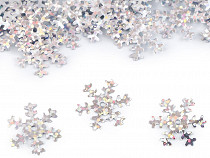 Diameter: 19 mm
Pulling hole: 0,9 mm
Package: 10 g
Hologram
14.- EUR
/ excl. VAT (500 g)
13.50 EUR
/ excl. VAT (500 g)
Set of Glitters, 12 pcs 340474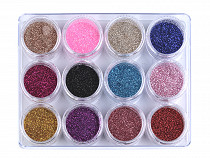 Diameter of jar: 3 cm
Height of Jar: 1,7 cm
Set: 12 pc
Set dimensions: 19,5 x 12,5 x 2 cm
10.90 EUR
/ excl. VAT (12 pc.)
Set of seed beads and sequins in a plastic box 340394
Box dimensions: 10 x 11 x 1,8 cm
Diameter: 2,3; 6,5 mm
3.58 EUR
/ excl. VAT (1 set)
Sequins, Glitters And Sequin Strip
There are millions of T-shirts, dance costumes and ball dresses. Sequins and glitters represent wonderful way to embellish your dress and make it different from standard ready-made clothes. Sequins can be shiny, mother-of-pearl, with hologram or simple ones (rich colours without shine and mother-of-pearl). Sequins in elastic footage used to embellish elastic materials (T-shirts, skirts, bra shoulder-straps etc.) are special thing. For more sophisticated ornaments in one line, we recommend sequins in footage, which means in one continuous belt. On the other hand, for more precise decorations of several colours and shapes, poured single sequins are better option.
Fine glitters provide literally endless possibilities for decorating. To apply them, you need liquid glue and it is only up to your creative inspirations whether you use textile glue and create decoration on dress, or you add final decorative touch on your wish card over paper template.