… serving You 31 years

For English call
(+420) 730 525 154
Mon-Fri: 8:00-16:00
or write to us

Pour Française

Para Español

Per Italiano
(+420) 735 750 451
Are you an Entrepreneur or Business owner in EU country? Then register at our site and benefit from buying wholesale. Special offer for new wholesalers - get free shipping for your 1st order over 50Eur! More here.
www.stoklasa-eu.com
Haberdashery Stoklasa - wholesale
Průmyslová 13, 747 23 Bolatice
tel: 553 677 777, email: eshop@stoklasa-eu.com

Sequins, Glitters And Sequin Strips

TIP: Filter by colour, price, composition etc.
Elastic Sequin Trimming width 10 mm 520128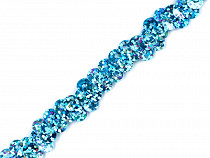 Flower Sequins Ø15 mm Metallic Hologram 220912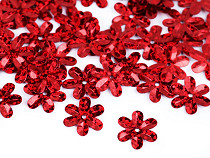 Loose Flat Sequins Ø6 mm Metallic 200860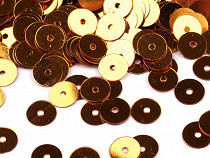 Mini Snowflake Sequins Ø5 mm 340097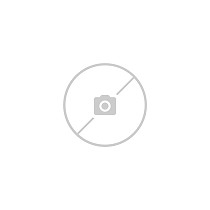 Diameter: 5 mm
Pulling hole: 0,8 mm
Package: 20 g
Shiny
2.187 EUR
/ excl. VAT (1 bag)
Powder Glitter in a Dose of 2.5-3 g 340174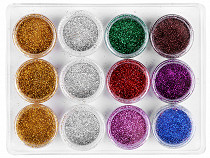 Reversible Sequins Ø6 mm 200046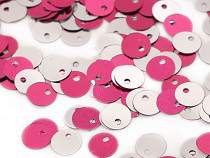 Sequin Trim Braid Ø6 mm Rainbow 520149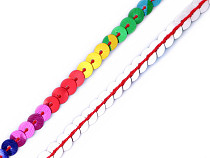 Diameter of sequin: 6 mm
Length: 10 m, 90 m
Shiny
7.110 EUR
/ excl. VAT (90 m)
Sequins Ø19 mm Snowflakes 200030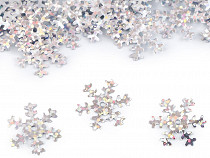 Sequins Ø20 mm Snowflakes 200031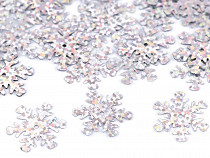 Sequins Ø7 mm AB effect 340095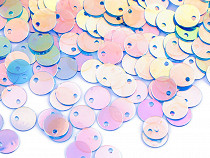 Sequins Ø8 mm AB effect 340093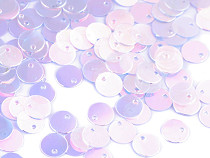 Sequins Ø8 mm AB matt 340096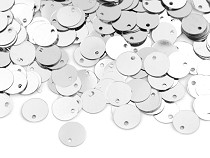 Sequins, Glitters And Sequin Strip
There are millions of T-shirts, dance costumes and ball dresses. Sequins and glitters represent wonderful way to embellish your dress and make it different from standard ready-made clothes. Sequins can be shiny, mother-of-pearl, with hologram or simple ones (rich colours without shine and mother-of-pearl). Sequins in elastic footage used to embellish elastic materials (T-shirts, skirts, bra shoulder-straps etc.) are special thing. For more sophisticated ornaments in one line, we recommend sequins in footage, which means in one continuous belt. On the other hand, for more precise decorations of several colours and shapes, poured single sequins are better option.
Fine glitters provide literally endless possibilities for decorating. To apply them, you need liquid glue and it is only up to your creative inspirations whether you use textile glue and create decoration on dress, or you add final decorative touch on your wish card over paper template.
According to the law of registration of sales the seller is obliged to issue a receipt to the buyer. Seller is also obliged to register received revenue at the Financial Authority online; in case of technical failure this must be done within 48 hours.

© Stoklasa textilní galanterie s.r.o. 2021.
To achieve the required functionality this site uses cookies. By continuing to browse the site, you agree to our use of cookies.
More information.
I understand