FREQUENTLY ASKED QUESTIONS
REGISTRATION RETAIL OR WHOLESALE
Can I make a purchase

without registering

?
Registration is not necessary for retail customers to make a purchase in our e-shop, but it comes with a number of benefits. For customers with business ID or VAT number registration is required.
What are the benefits of registration?
Registered customer has these benefits:
- an overview of all orders
- contact information are saved, no need to fill them out with each order
- ability to add products to favourites
- an overview of new discounts and special offers since last log-in
- loyalty program for wholesale customers
To all unregistered customers are displayed retail prices for end customers (if you have business license or ID, you must log in or register. Later changes on invoices are not possible).
How does registration work?
Simply click on the link "Create an user account" in the top right corner, enter the required information such as e-mail, password, and contact information. After entering all the necessary data, click on the "Register" button and registration is complete. (If you're shopping for schools, nursery schools, kindergartens, organizations and government institutions, businesses etc., you must register under the identification number of the given subject.)
What should I do if I forgot my login information?
If you forgot your password do the following:
From the Login homepage, click "Send Temporary Password". An email will be sent to your email address on file with a temporary password. This password will be valid for the next 24 hours. During this time you need to change the account password.
Do you have wholesale prices?
For customers with business licence or VAT nr. we have wholesale prices, these will be displayed automatically after creating an account and logging in.
Can I change my registration from retail to wholesale customer?
If you are a registered as a retail customer and need to change to a wholesale customer account, please create a new account with a new email. 
I have a new business ID, VAT how do I change it?
If you have new business ID or VAT, you need to create a new registration with a new email. If you prefer to use your original e-mail address, please contact our customer service representative for your language.
Where can I sign up for newsletters?
For a newsletter subscription click on the corresponding link on either the homepage, at registration, or during placing an order. Once you subscribe to our newsletter we will keep you up to date with important information about discounted items, special promotions, new products etc.
MERCHANDISE
How do I find out the availability of a sold out item or variant?

This information can be found directly under the product name. If you want to be notified when the sold out item will be available you can set up a watchdog.

If your desired color is currently unavailable, the approx. date of re-stocking will be displayed directly next to the colour option.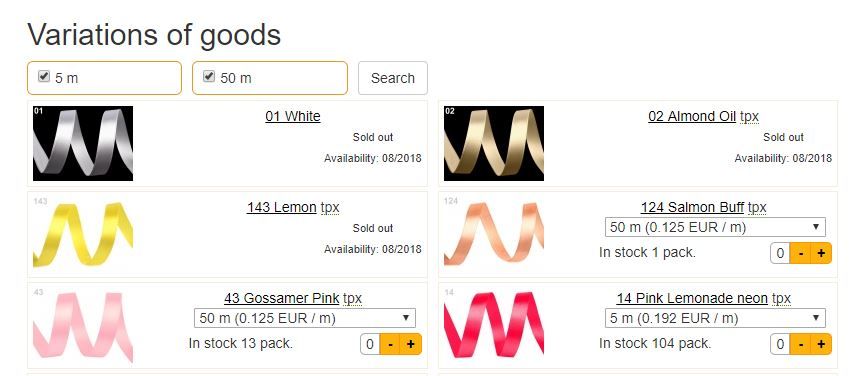 Why is the color on the monitor different then the one I received?
When processing photos of goods we try to capture colors as faithfully as possible. However, each monitor or display can display the resulting photo differently. That is why we describe the color of the goods and use so many color names.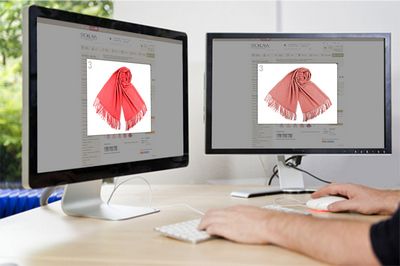 Why do you have such unusual color names?
Due to the large number of variants of some products, it is very difficult to identify color names because there are many color variations that differ only minimally. That is why we use several types of color cards, thanks to which we are able to better describe the colors of individual variants of goods. With the world-renowned Pantone Color + Home incl. numerical expression, the so-called tpx, you can mainly meet with items of textile haberdashery, such as threads and ribbons. For other products we use classical Czech colour card, metal or wood colors, specialized colour cards from our suppliers, etc.
When I order a package of more than one piece, will each piece be labeled?
No. Goods in bulk are labeled only on the packaging. 
Where can I see the

weight of

an item?
Information about the weight of each item can be found in the shopping cart. Total weight of the completed order is also shown in the details of the order (on the Invoice).
Is it possible to look at the goods in person?
We have a wholesale zone where customers can check out some items personally. More information HERE.
PLACING AN ORDER
How do I place an order?
If you orientation in our e-shop is difficult, see our shopping quide.
Can I

order

by phone

or

via

e

-

mail?
We accept online orders only. If you need an assistance with your order, please contact the customer service representative of your country.
How do I check

the status

of my order?
You will see the status of your order by logging into your Stoklasa account. Here you can easily find out at what stage is your order. We will also inform you about the status of your order by e-mail.

I have purchased an item previously, but now I

can not find it, what now

?
Visit "My Account" in order history, choose the detail of order and find the previously ordered item and click the link from there.
Will items remain in my shopping basket?
Items will remain in your shopping basket until you either complete the order, delete the items in basket or clear your browser cookies.
I already have some items in the shopping cart, but I need to order some another items earlier, is it possible to have multi-basket?
The Multi-Basket function allows you to divide desired goods into multiple baskets, for example by assortment (e.g. Haberdashery, Decoration) or your other preferences . You can leave several baskets open and finalize them as needed. More information here.
Is it possible to add items to my order?
Once your order has been placed, there is no way to interfere with it. You can only request to cancel your order.
How

do I cancel

placed

order

?
If your order has not been packed or shipped yet, we may be able to cancel it so you can place a new order. To cancel an order email the manager of your country or send your request to eshop@stoklasa-eu.com
Can I use more than one coupon at a time?
No, only one coupon may be used per purchase..
Can I redeem multiple gift vouchers at once?
You can redeem multiple gift vouchers at the same time (eg combine 100 CZK and 200 CZK voucher). You can only redeem vouchers that you have received through the store bonus program at stores.
Where can I write an order note?
You can add an order note in the Shipping and Payment section of your Cart.
If you add a note to your order, it will be pending untill our employee reads and process the note, then manually move the order to the next processing state. So if you want to receive your order as soon as possible, do not write down in the note for example "Please, send as soon as possible" - this will slow down the process.
PAYMENT
Can I change my payment method during order preparation?
Yes, but only if the order is in "Unpaid" and "New". You cannot change your form of payment afterwards.
How long do I have to pay my order when I choose bank transfer?
After we prepare your order, we will issue an invoice and email it to you. Invoice is usually issued within two business days after placing an order. On the invoice you will find all the data necessary to make a transfer.
I want to pay by bank transfer when will I receive my payment details?
The advance invoice will arrive to your e-mail within a few minutes of the order being placed. If you are a new customer, you will need to verify your registration information before you receive an advance invoice via email. The advance invoice is due within 5 working days. After the payment is credited to the account, the system automatically moves the order to the "picked" state. After picking the individual goods, the order will be delivered to you.
Is it possible to pick up the order at one of your stores and pay on the spot?
Customers living in the Czech Republic can pick up orders over 200 CZK without VAT in any of our retail stores. You can pay directly there with either card or cash (+handling fee 20 CZK).
Is it possible to pay for the order in advance and then have another person pick it up?
Yes, it is possible. The person who will pick up your order, must know the order number and exact name as written on invoice.
DELIVERY
What is the delivery

time

?
Orders are dispatched as soon as possible, usually within two working days. In case of delay you will be informed. Once the package is handed over to the carrier, you can then track it directly at the carrier site.
Where can I

find a tracking number to my order

?
After delivery company picks up your package we will e-mail you the tracking number and you can track the shipment directly on the website of the carrier. This number can be also found in the details of your latest order in your Stoklasa account.
What should I do, if I was unable to accept the delivery and it was

sent

back to the sender

?
Please contact customer service representative of your country and we will discuss the next step.
To what countries do you deliver to?
For the current list of countries where we deliver see below. The method of delivery and payment here.
Aland Islands (Finland), Australia, Belarus, Belgium, Bulgaria, Campione d 'Italia (Italy), Ceuta (Spain), Czech Republic, Denmark, Estonia, Finland, France, Croatia, Indonesia, Iceland, Ireland, Israel, Italy, Canada Canary Islands (Spain), Kazakhstan, Cyprus, Liechtenstein, Lithuania, Livigno (Italy), Latvia, Luxembourg, Hungary, Malta, Melilla (Spain), Germany, the Netherlands, Channel Islands (UK), Norway, the Island of Helgoland (Germany ), Poland, Portugal, Romania, Russia, Greece, Singapore, Slovakia, Slovenia, United States, Serbia, Spain, Sweden, Switzerland, Turkey, Ukraine, United Kingdom.
My order was not delivered, what should I do?
If the tracking of your shipment shows that the package did not change location for several days, contact the carrier directly.
If you did not receive tracking number to your order, first check the details of your order (the tracking number is saved with each order), if its not there, contact our customer service or send email to eshop@stoklasa-eu.com
What should I do if the 

shipment

is

delivered

damaged

?
Check every shipment properly as soon as it is delivered. If you notice damage on the package, file a claim directly with the carrier.
If you notice damage to goods after opening the package, please contact our customer service.
Can I pick up my order in a local retail store?
Orders over 200 CZK without VAT can be picked up at any of our retail stores. You can pay directly there with either card or cash (+handling fee 20 CZK).
When picking up my order in retail store, can I open it and check the content before I pay for it?
If you choose to pick up your order in local retail store, then the store serves o n l y as a distribution point. After payment is made you will receive the package. If you need to return items or file a claim, it is necessary to follow our terms&conditions. Our employees in retail stores can not help you in these situations.
My package is on its way, but I will be not present at the delivery address on the expected delivery day, what now?
Contact the carrier with a request to change the date (or place) of delivery.
How do I find out if my order was dispatched?
Information about order dispatch will be sent to the email address entered in the order. After handing over the package to the shipping company we will e-mail you a tracking number. Tracking number will be also saved in the details of each order.
It is possible to deliver goods to other than the billing address?
Yes, it is possible. VAT is then calculated according to the country of delivery.
RETURNS AND COMPLAINTS
How can I properly

use my

statutory right

to

return

goods purchased

on the Internet?
Please see our terms&conditions section "Withdrawal from the Purchase Contract".
How do I return an item or file a complaint?
In the case of a complaint, please follow the instruction here.
More information about specific situations can be find in our terms&conditions, see "Returns and Complains".
What should I do if an item I received is defective, incorrectly delivered or it is missing?
In case of complaint, please follow the information contained here. Complaint department can be contacted via e-mail lenka.scheffczikova@stoklasa.cz or contact directly the manager of your country.