New Feature in our e-shop

www.stoklasa-eu.com
 Multi-Basket
The Multi-Basket function allows you to divide desired goods into multiple baskets, for example by assortment (e.g. Haberdashery, Decoration) or your other preferences . You can leave several baskets open and finalize them as needed.
1) After logging into your Stoklasa account, there will be displayed just one basket, if needed, more can be added.
If you want to create a new basket, click "Go to Basket".

---
2) New Basket: Click the + button. The number of open baskets is not limited.
Rename your Basket: Click the pencil icon (edit), proceed with editing the name and click "Rename".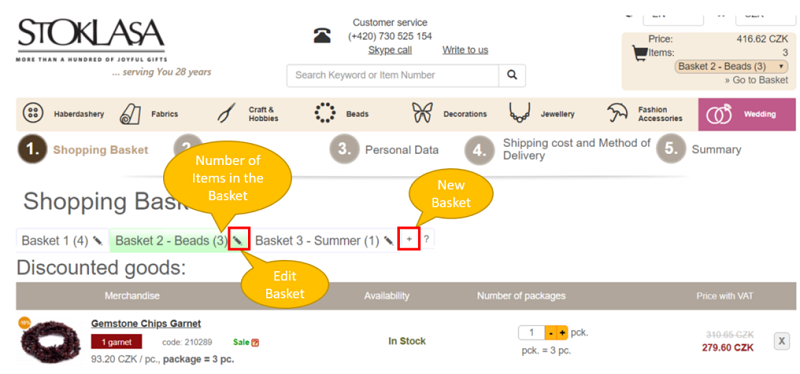 ---
3) Selecting Basket: When ordering goods from the e-shop, the goods are added into the basket that is selected.
Before you put the goods into your Basket, make sure the correct basket is selected. The number in brackets indicates how many items the basket contains.

---
4) Deleting a basket:
Move to another basket (the currently selected basket is highlighted in green and can not be deleted). Then touch the pencil icon next to the basket you want to delete. Click the "Delete Basket" button.