… serving You 31 years

For English call
(+420) 730 525 154
Mon-Fri: 8:00-16:00
or write to us

Pour Française

Para Español

Per Italiano
(+420) 735 750 451
Are you an Entrepreneur or Business owner in EU country? Then register at our site and benefit from buying wholesale. Special offer for new wholesalers - get free shipping for your 1st order over 50Eur! More here.
www.stoklasa-eu.com
Haberdashery Stoklasa - wholesale
Průmyslová 13, 747 23 Bolatice
tel: 553 677 777, email: eshop@stoklasa-eu.com

Braids and Trimmings
We offer you a plenty of trimmings that can be used for clothing and footwear, in the apartment or on technical textiles. We have a textile and plastic trimmings, braids, gold, silver and many other colors, different sizes and styles, braids smooth and elegant, but also braids with fur or with sequins. It's up to you which one you choose and how will you use it.
TIP: Filter by colour, price, composition etc.
Elastic Sequin Trimming width 10 mm 520128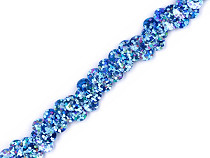 Christmas Tree Satin Trimming width 19 mm with Glitter 520262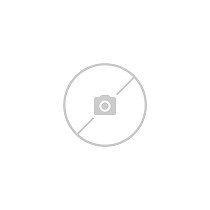 Width: 19 mm
Length: 13.5 m
Clothing
3.956 EUR
/ excl. VAT (13,5 m)
Imitation Pearl Trimming width 9 mm 510669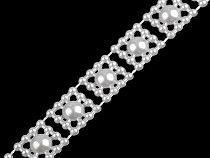 Width: 9 mm
Length: 9 m
Glossy
5.481 EUR
/ excl. VAT (9 m)
Pleated Ruffle Trimming width 78 mm 550090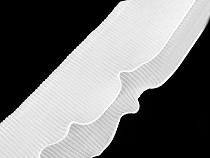 Pleated Trimming width 78 mm 520268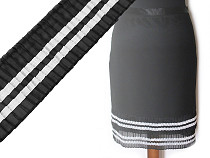 Rhinestone Trimming width 5 mm 360002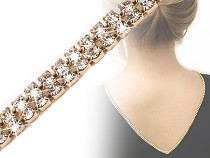 Rhinestone Trimming width 5 mm length 1 m 360004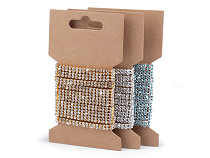 Ric Rac Ribbon with Lurex width 4 mm 520273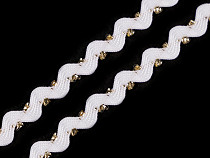 Width: 4 mm
Width from edge to edge: 6 mm
Length: 25 m
4.275 EUR
/ excl. VAT (25 m)
Satin Lace / Ribbon width 63 mm 520270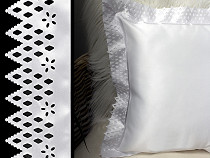 Width: 63 mm
starting at 2 m
Length: 15 m
Clothing
0.451 EUR
/ excl. VAT (1 m)
Satin Lace / Ribbon width 98 mm 520271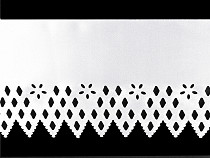 Width: 98 mm
starting at 2 m
Length: 15 m
Clothing
0.677 EUR
/ excl. VAT (1 m)
Satin Trimming width 24 mm with Lurex 520259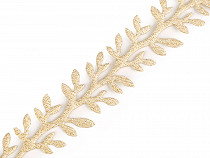 Trimming width 12 mm 520278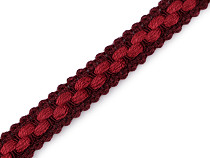 Braids
Braids can be made of all synthetic materials; cotton darns are often used and certain percentage of elastomers is added. Braids are produced by two basic technologies: braiding, or knitting on so-called knitting crochet machines.
Braiding machines use one longitudinal system of threads that mutually interweave in diagonal direction.
Knitting crochet machines of warp they knit chain eyes, through which weft yarn is pulled. Galoon braids may gained on their volume by laid-in warp thread which is often made of elastic fibres.
According to the law of registration of sales the seller is obliged to issue a receipt to the buyer. Seller is also obliged to register received revenue at the Financial Authority online; in case of technical failure this must be done within 48 hours.

© Stoklasa textilní galanterie s.r.o. 2021.
To achieve the required functionality this site uses cookies. By continuing to browse the site, you agree to our use of cookies.
More information.
I understand