Guide to XML feed downloading

Dear Traders,
We have prepared a new way for you to download XML feeds for your e-shops. Based on your comments and our technical capabilities, we've tried to simplify, accelerate, and provide you with the most control over the XML feed as much as possible. In the new user interface you will be able to easily select the XML feed that best suits your needs. View the structure of XML feeds or tags translation

Benefits:
Adaptation =

you can choose the XML structure, assortment and price we will send you. You can download complete data, or just a file containing prices and stock availability, which is significantly smaller and more economical.

Simplification

=

in an intuitive interface, you can choose exactly the kind of XML you need and change it at any time without having to ask us again to access a new URL address. There is only one application and the creation of the feed is completely under control directly from your user account.

Speed =

you download only what you need. This will greatly speed up downloading and avoid overcapacity problems or load times.

Safety =

you only have access to your XML feed over your password-protected account and secure connection.
What should be done for the collection of XML feed?
If you don't have a Stoklasa customer account yet, please register.

Request an XML feed subscription. Just write an email to marketing@stoklasa.cz. Fill in the "Request to subscribe to the XML feed" in the subject. In the email, please let us know your name and address, the website on which you operate your e-shop, your customer number or the e-mail you are signing into your Stoklasa customer account. You can also write your phone contact in case we need to specify something about the feed.

Based on your information, we will prepare a supplier-customer agreement to be sent to you by email. Take a look at the agreement.
Please print, sign, scan and email us back the agreement.


Once we receive the agreement, we will confirm its acceptance and a new feature will appear in your Stoklasa user account (in "My Account")

"XML feed"
Signing and fulfilling the supplier/customer agreement is a requirement for the XML feed
CAUTION: Changing XML feed subscription applies to all existing subscribers. Do not hesitate to switch to a new system. The current URLs from which you download XML feeds will cease to function on June 30th, 2019!
How to add XML feed?
Sign in to your Stoklasa account. Select "My Account"

---
Select "XML feed"

---
You are now in the XML feed creation interface. Please read the terms. Start by choosing a language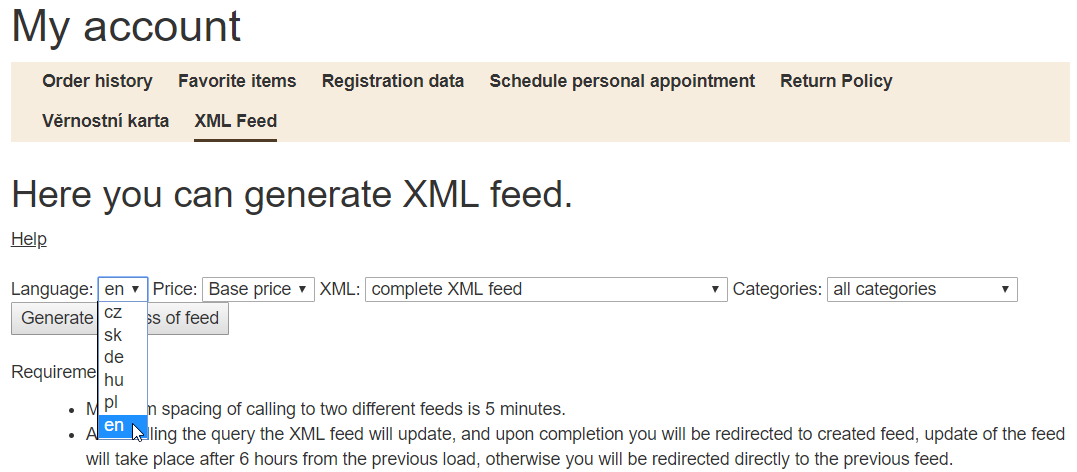 ---
Continue by choosing a price

---
Choose the XML structure. "Complete XML feed" includes all available product information, including descriptions, images, dimensions, etc. "Pricing and stock only" contains only costs and stock and is more appropriate for frequent updates. The "Complete XML feed - Heureka" contains all the information about the goods in the specification for the Heureka. If you do not know which type to choose, feel free to contact our support (contact below)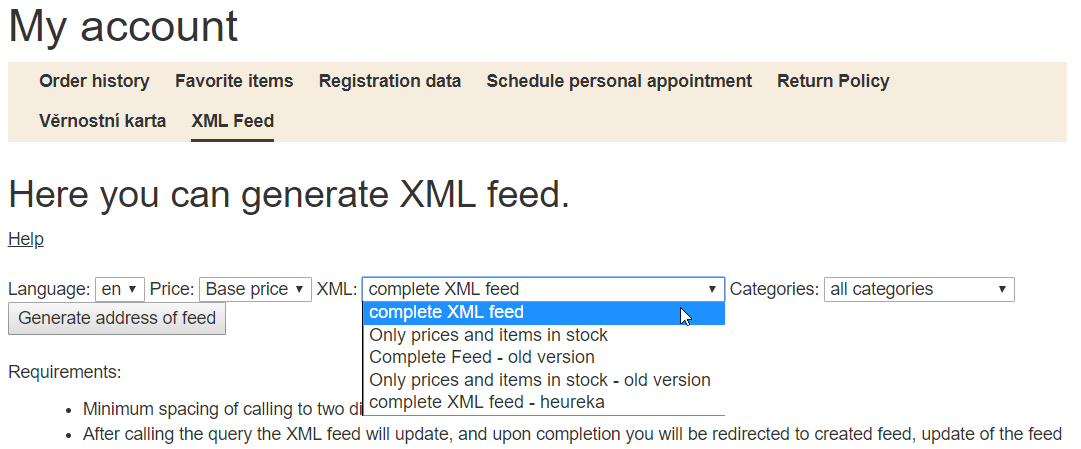 ---
Continue by choosing a category of goods. The categories copy sorting goods as we use them in our e-shop. If you do not offer our entire assortment, but specialize only in certain areas (for example, only on jewelery), it is better for you to download only this category. The resulting XML feed will be much smaller and will load faster. You can download multiple types of XML feeds (such as jewelry and beads). For each, the system generates a custom URL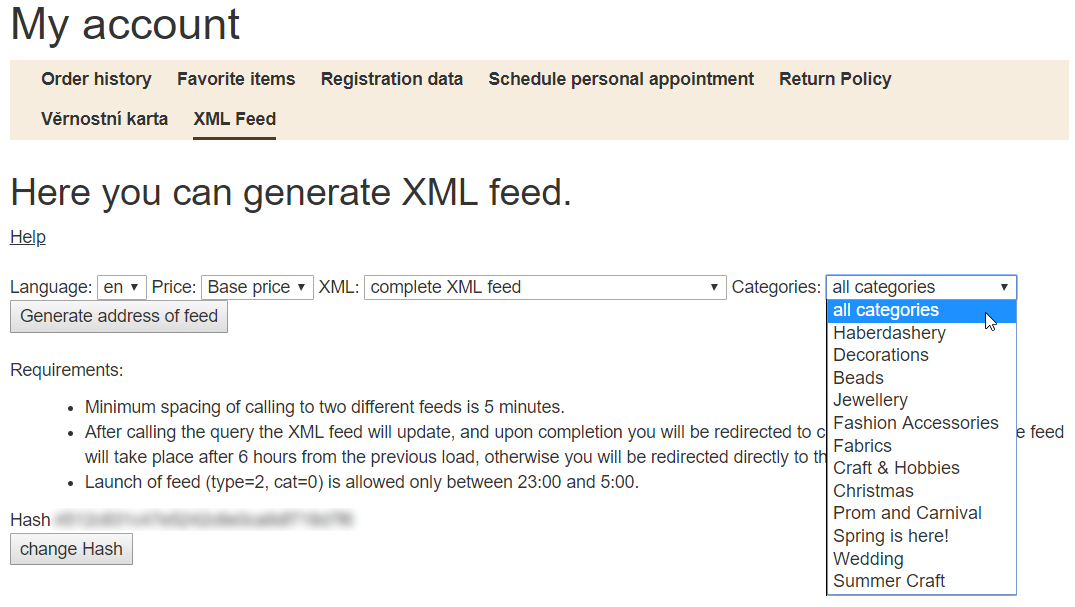 ---
Now select "Generate Feed Address"
A unique address will appear from which you will download your XML feed. Enter it at your e-shop or pass it on to your e-shop administrator.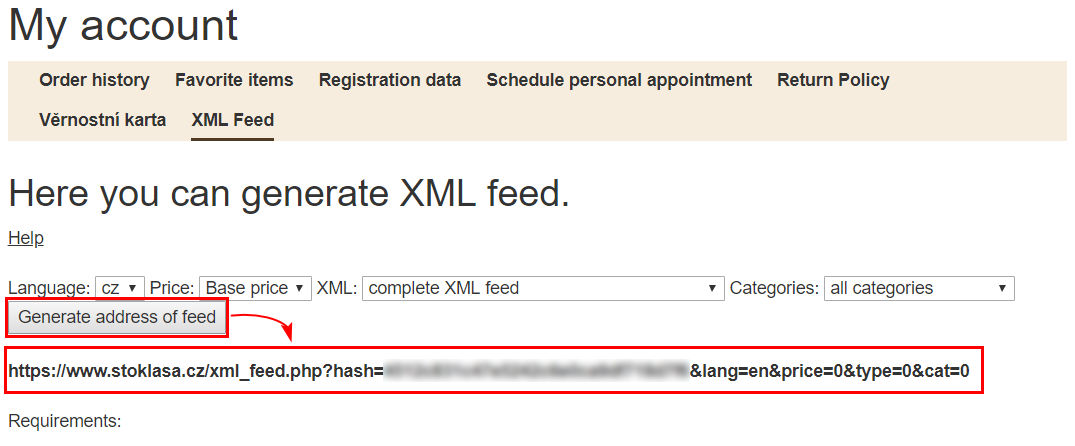 Need Assistance?
If you have any questions, please contact our specialist at: petr.sliva@stoklasa.cz