… serving You 31 years

For English call
(+420) 730 525 154
Mon-Fri: 8:00-16:00
or write to us

Pour Française

Para Español

Per Italiano
(+420) 735 750 451
Are you an Entrepreneur or Business owner in EU country? Then register at our site and benefit from buying wholesale. Special offer for new wholesalers - get free shipping for your 1st order over 50Eur! More here.
www.stoklasa-eu.com
Haberdashery Stoklasa - wholesale
Průmyslová 13, 747 23 Bolatice
tel: 553 677 777, email: eshop@stoklasa-eu.com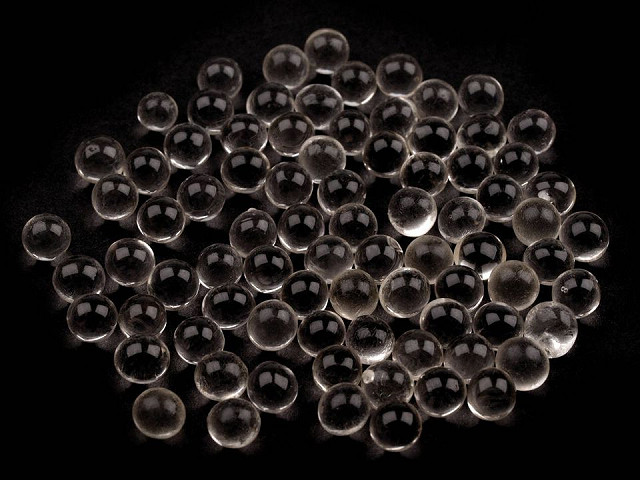 6 Transparent
Inspiration
Description
Water pearls serve like a decoration but also make the ideal substitute for water in vase for cut flowers. Pearls absorb water and keep it for 30 days. Suitable not only for fresh flower but also for slips planting and hydroculture. Very helpful for long holidays so as plants in flower-pots not to run dry.Depends on how long you will stay outside your home and where the plants are placed. Flowers will not survive 14 days on sun even with pearls. We don´t recommend to use together with fertilizer or as an air refresher.
Usage: Wet pearls for 8 hour in water where they will swell up to approx. 3 mm diameter. 1g crystals is approx. for 100ml water.
Warning: Keep out of reach of children. If swallowed, seek medical help.
In one bag are approx. 125 pcs of beads.

Not suitable for children under 3 years. - swallowing hazard
Composition
100% polyacrylamide
Techniques
Floristry
For Wedding
Production of decorations
Would you like us to email you once we reduce the price of this product?
Login to your account.
Did you find an inaccuracy in the description of the goods? Or do you think anything is missing here? Please let us know.
According to the law of registration of sales the seller is obliged to issue a receipt to the buyer. Seller is also obliged to register received revenue at the Financial Authority online; in case of technical failure this must be done within 48 hours.

© Stoklasa textilní galanterie s.r.o. 2021.
To achieve the required functionality this site uses cookies. By continuing to browse the site, you agree to our use of cookies.
More information.
I understand