Festive table decoration belongs to Christmas. Here are some tips and inspiration how to arrange the Christmas table.

Christmas is the season of love, peace and family. Preparing and decorating your home for the Christmas holidays is a way to involve the whole family, a reason to gather and joy for all.
Luxurious or modest?
Festive dining requires preparation and reflects on what style you choose this year. According to current trends  Christmas decoration in the spirit of folk art or luxury is in.
5 tips for festive dining settings:
Use a tablecloth or runner in the middle of the table
Choose a colour scheme and stick to it. Three colours is a good amount
The layout should be for an even number of people. The odd number is bad luck
Romantic atmosphere of festive dining will create a candles
Putting coins and carp scale under the plate its a tradition to make the following year full of money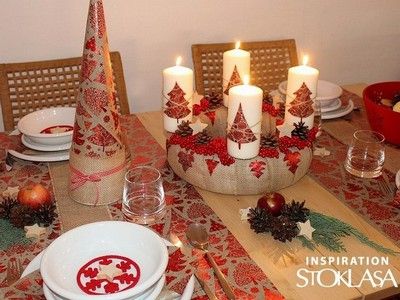 Table Runners
The table runner is a narrow length of cloth laid on top of tablecloths or on a bare table. It can be changed by event or season. For the Christmas settings, choices are usually monochrome or with winter motifs.
Touch-up decorations
More Inspirations
(For more information, click the photo)
Only subscribed members may contribute.