After the summer holidays sun sets early. It is necessary to ensure the visibility of children when returning from school and their activities. Please see our suggestions in the article below.

In today's traffic, it is important to be seen as a pedestrian or a cyclist. Additionally, autumn weather brings sunsets faster, which can be dangerous without reflective and fluorescent elements. Reflective elements reflect light, and will help you stay visible for up to 200 meters.
START WITH THE HEAD
Hat with reflective patch, iron-on patch or reflexive thread on pom poms will protect the most valuable thing you have.
HANDS AND FEET
While walking and cycling, your hands and feet are constantly on the move. If you place safety features on them, you can easily alert the approaching car or other road user. Most commonly used is reflective snap armband, which can be attached to the hands, legs, but also to the frame of the bike, the handlebars or backpack. If you wear shoes with shoelaces, we recommend taking those that reflect the light. Each of your steps will be visible.
BACKPACKS, HANDBAGS, ZIPPERS
You will be more visible through a variety of pendants, stickers, sew-on patches a iron-on patches. Just add reflective stripes on sleaves or trousers. They will protect you at night and adorn you in day time.
FOR CYCLISTS
Reflective spoke tubes with an easy attachment.
PICTURE INSTRUCTION
HOW TO MAKE SURVIVAL CORD BRACELET 
WITH REFLECTIVE THREAD
Click the photo to view the instructions.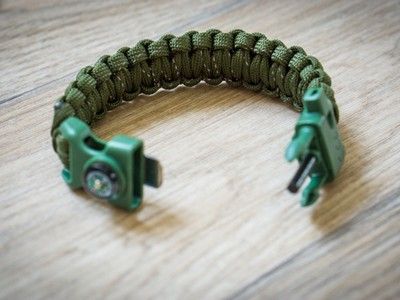 Only subscribed members may contribute.