www.stoklasa-eu.com
Haberdashery Stoklasa - wholesale
Záhumenni 22, 747 21 Kravaře
tel: 553 677 777, email: eshop@stoklasa-eu.com

Rib Knit Fabric
Knitted edging fabric is popular especially among those who need to make special some beloved piece of clothing. They can be used for end of sleeves and straps sweatshirts, overalls or work clothes. They are also widely used especially for small children, who will grow out of clothes quickly. We offer you knit from multiple vendors in a variety of colors and also in sets, where you can find trim for sleeves and pant legs.
TIP: View goods by color, painting techniques, composition etc.
Tubular Elastic Rib Knit Cuff width 7 cm Set 260051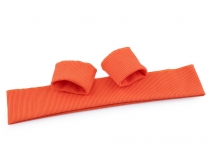 Sleeve dimensions: 7 x 20 cm
Waist dimensions: 7 x 80 cm
53.040 EUR
/ excl. VAT (30 set)
Elastic Rib Knit Fabric Cuffs Waistband Knitted Fabric Jersey 15x80 cm 260081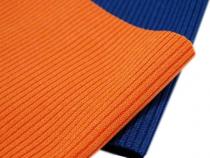 56.550 EUR
/ excl. VAT (50 pc.)
Elastic Rib Knit Cuffs Waistband Knitted Fabric 16x90-110 cm 260689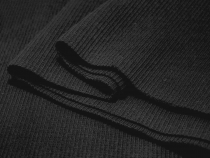 Dimensions: 16 x 90 - 110 cm
Weight: 410 - 420 g/m²
43.160 EUR
/ excl. VAT (40 pc.)
Elastic Rib Knit Fabric 16x80 cm 260635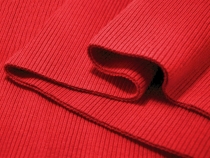 Weight: 340 - 350 g/m²
Width: 16 cm
Circumference: 80 - 94 cm
11.720 EUR
/ excl. VAT (10 pc.)
Rib Knit Fabric width 40 cm 260080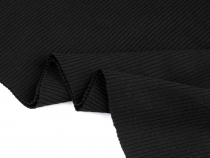 260080

Width: 40 cm
Maximum Continuous Length: 5 m
Weight: 255 g/m²
Ribbed Knit Ends
Ribbed knit commonly forms stripes of fabric or knitwear; most frequenty are made in so-called tunnel which is typically used in collars, at the ends of sleeves, and in the trunk parts of jackets,. waist of sweatshirt, work clothes, windcheaters, overalls, as a functional and decorative element in sports clothes. The function of elastic cuff is to assessorize dress and improve its utility values. We offer ribbed knit ends from several suppliers, in many colours and in sets including ribbed knit ends for sleeves and knee socks.