Are you an Entrepreneur or Business owner in EU country? Then register at our site and benefit from buying wholesale. Special offer for new wholesalers - get free shipping for your 1st order over 50Eur! More here.
www.stoklasa-eu.com
Haberdashery Stoklasa - wholesale
Záhumenni 22, 747 21 Kravaře
tel: 553 677 777, email: eshop@stoklasa-eu.com

Cotton Lace Yoke Applique 18x22 cm 180681
while supplies last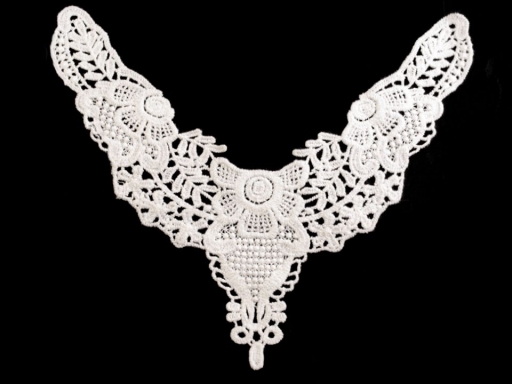 Inspiration
0.859 EUR

excl. VAT
1.228 EUR

excl. VAT
Item Number:
180681
Composition:
80% cotton
20% polyester
Customs code:
5804290000
Description
Cotton yoke has dimensions of 18 x 22 cm. It can be used for home accessories or any clothing such as dresses, shirts, underwear, etc. It will ass feminine elegance and finesse not only to clothes.

Not suitable for children under 3 years.
Composition
80% cotton
20% polyester
Techniques
Decorating Clothes
Sewing - other
Product care

Did you find an inaccuracy in the description of the goods? Or do you think anything is missing here? Please let us know.
According to the law of registration of sales the seller is obliged to issue a receipt to the buyer. Seller is also obliged to register received revenue at Financial Authority online; in case of technical failure this must be done within 48 hours.

© Stoklasa textilní galanterie s.r.o. 2019.
Call Back Request
8 - 14, Mon - Fri
Do you have any questions? Leave us your phone number, we'll call you back.